De Realtà Mapei n.° 35 - 8/10/2022
MAPEI: 85 years old and looking to the future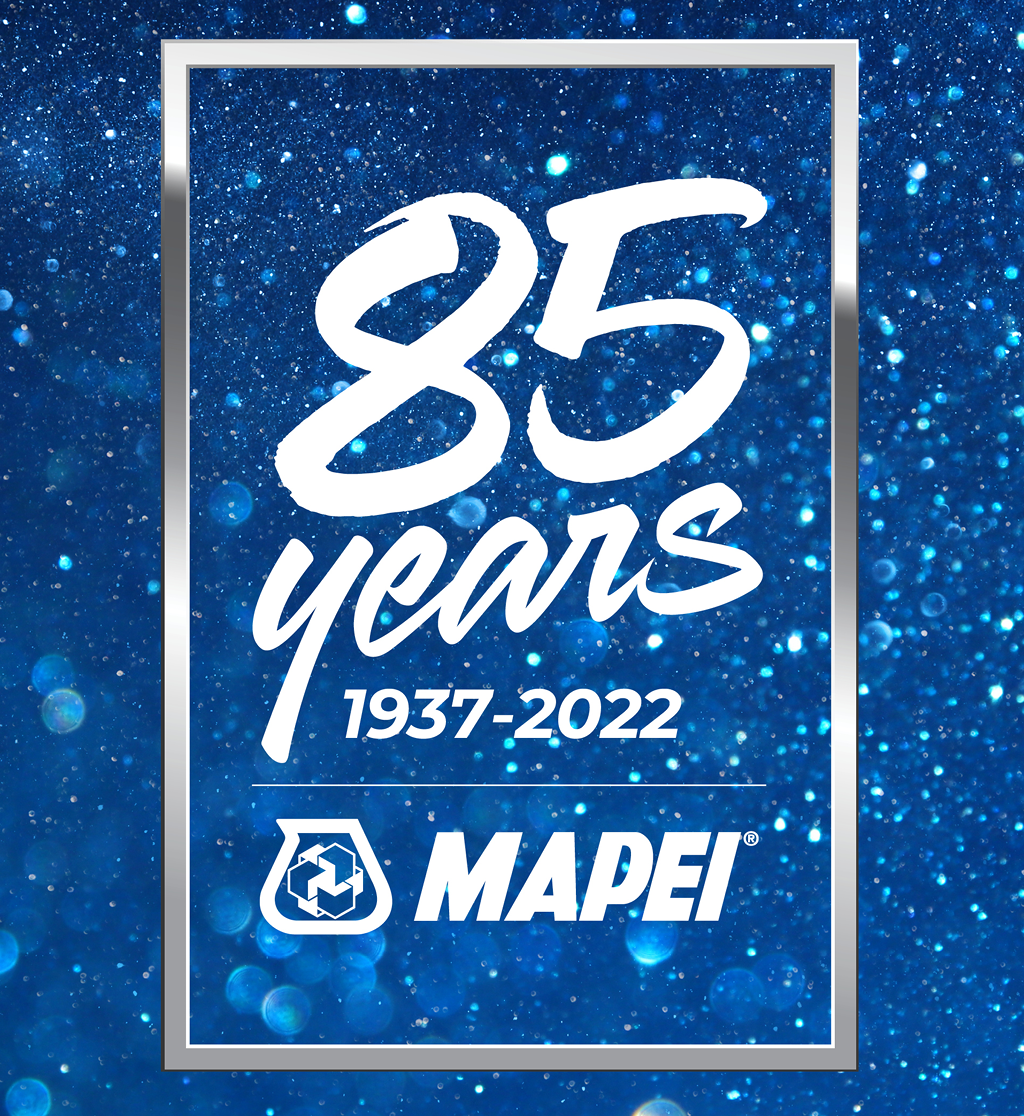 It was 1937 when Rodolfo Squinzi founded his building materials business in the outskirts of Milan with seven staff members and the support of his wife, Elsa. That is how MAPEI – Materiali Autarchici Per Edilizia e Industria – was first established, setting off on a path that would lead it to become a multinational company championing Italian excellence all over the world.
Now, 85 years later, the facts and figures about MAPEI tell the story of how it has evolved: Three generations of entrepreneurs, with business operations in 57 countries, over 20 product lines to meet all the needs of the building trade, 84 production plants, revenue of about $3.1 billion USD and about 11,000 staff members.
The farsightedness and passion of Giorgio Squinzi, at the helm of the company from 1984 to 2019; the constant support of his sister, lawyer Laura Squinzi; and the insight of his wife Adriana, head of marketing and communications strategy, laid the foundations for what are now the pillars of MAPEI Group: Internationalization, research & development, specialization and sustainability. Support for culture and sport has also helped secure close ties between business operations, the surrounding region and the company itself. These bonds are still the company's most distinctive trait worldwide.
Since 2019, Laura Squinzi has been Chairman of the Board of Directors, which also includes Veronica and Marco Squinzi as Group CEOs, and Simona Giorgetta.
"We are treating this important milestone more like a starting line. We are ready to face new challenges, knowing that we can count on a team of the highest caliber," Veronica Squinzi stated. "MAPEI is a company with its heart in Italy and its eyes looking out across the globe. Since our grandfather took that historic first step in 1974 and built the athletics tracks for the Montreal Olympics, we have never stopped investing in new markets. Today we have 91 subsidiaries in 57 countries, and we have no intention of stopping here. We recently acquired the French company Resipoly, and we are currently building five new factories everywhere from the United States to China."
Marco Squinzi went on to add, "Our deep commitment to innovation and research is still a major part of the entire Group strategy. We are a chemical company manufacturing products for the building industry, and the aim of our 32 research laboratories is to come up with cutting-edge products to make building increasingly sustainable by focusing on durability and quality. We believe that extending the life cycle of existing buildings is the best way to consume fewer resources and produce less waste for landfills. We are also committed to making increasing use of raw materials with low environmental impact or secondary raw materials to help boost the circular economy, simultaneously striving to reduce the use of hazardous substances to a minimum in order to protect not only the environment but also workers' health."
Luigi Di Geso, President and CEO of MAPEI North America, stated, "MAPEI is known throughout the industry for excellence – not only for excellent products, but also for the excellence of the philosophies and practices that lead to the creation of those products. That excellence is rooted in our firm connection to Italy and to the passion for innovation with which this company was founded. MAPEI is an historic company with new ideas because of that passionate drive for innovation."
Countless projects and initiatives have seen MAPEI play a leading role in helping communities grow all over the world. They include the upgrading of iconic buildings, such as the Guggenheim museum in New York City, La Scala opera house in Milan and the Colosseum in Rome. They also encompass the construction of large infrastructures like the Panama Canal and the company's involvement in major futuristic projects such as the "Arena del Futuro," an innovative green-mobility project – following the route of the A35 BreBeMi motorway in Italy – that is based on dynamic-induction electric recharging.
As it blows out 85 celebratory candles, MAPEI is retracing its own history. But, above all, it is looking to the future, choosing to take on new challenges with the commitment, passion, high specialization and professionalism that have always distinguished the company and its people.
The Story of a Great Italian Company with a Global Vision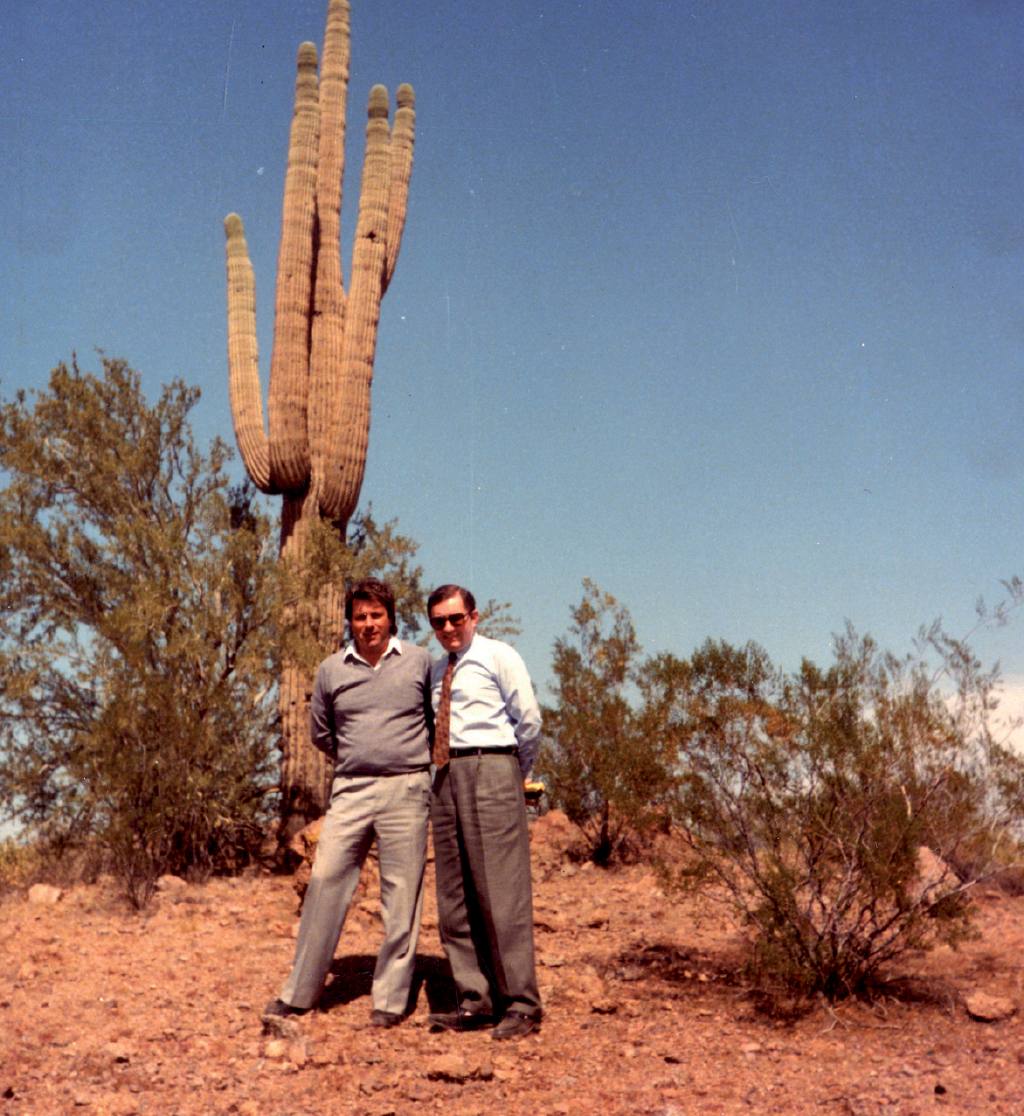 The early days
When Rodolfo Squinzi founded MAPEI (Materiali Autarchici Per Edilizia e Industria) in Milan in 1937, the company focused on manufacturing paints for the building industry. The old headquarters on Milan's Via Cafiero, which once employed seven people, is now the home of the Corporate Research Centre for the research and development of new MAPEI products.
MAPEI's first product was Silexcolor, a silicate paint destined to become one of the most popular products in the entire MAPEI range. Next, the company focused on manufacturing adhesives and products for the installation of resilient materials. Research, which has always been in the company's DNA, led to the creation of Adesilex, an adhesive for installing linoleum that was an improvement on Italeum.
From these modest beginnings, through hard work and a commitment to innovation, MAPEI began to grow.
Giorgio Squinzi paves the way to internationalization
In 1984, after Rodolfo passed away, his son Giorgio Squinzi, an industrial chemist, took over the reins of the family business, leading it onto a new stage in its development. After initially breaking into the Canadian market by supplying products for laying the athletic track for the 1976 Montreal Olympics, MAPEI opened its first factory outside Italy in an industrial area in Laval close to Montreal, Canada. Giorgio Squinzi's brilliant idea of building company factories close to consumers on every continent, meant that MAPEI expanded internationally – enjoying exponential growth over the next few years as it opened up new plants on every continent.
Giorgio was supported by his sister, Laura Squinzi (a lawyer), and his wife, Adriana Spazzoli, who led the management of the MAPEI Group's marketing and communication operations. This was combined with constant investment in research for the main purpose of supplying users with safe, innovative products for even the most complex and demanding building projects.
Looking to the future
"Never stop pedaling," Giorgio Squinzi's famous motto, has remained firmly engraved in MAPEI, instilling strength even in the most difficult times. In 2019, the passing of both Giorgio and Adriana marked a change in leadership: Veronica and Marco Squinzi, who had been with MAPEI since the early 1990s, become joint CEOs of the company, guided by a Board of Directors chaired by Laura Squinzi. The Board also includes the architect Simona Giorgetta.
Despite the difficult state of affairs caused by the COVID-19 pandemic in the early 2020s, MAPEI proved to be a solid but flexible company, quite capable of adapting efficiently to change, while remaining true to its own corporate strategy.
Today MAPEI Group operates in 57 countries, with 84 production plants based in 35 countries. Thanks to a range of products meeting all the needs of the building trade with a particular focus on sustainability, durability and high-quality products, growth has been constant.
Six new factories are currently being built all over the world – China, India, Egypt, Canada and two in the United States – so as to be able to work even more closely with customers.
Sport and culture: An inseparable partnership
The family's passion for the world of sport, and cycling in particular, took on concrete form with the sponsorship of a professional cycling team from 1993 to 2002. This team was at the very top of all the international rankings for many years, with a total of 654 races won. As time has passed, MAPEI's commitment to cycling has continued, including the support of youth teams and other events, including the "Re Stelvio Mapei" mountain road race. MAPEI has also been the Main Sponsor of the UCI Road World Championships since 2008.
However, the Group's main investment in sport is currently Sassuolo Football Club. Initially envisaged as a commitment to the local ceramics district, Sassuolo, this project is now more alive than ever. Owned by MAPEI since 2003, the men's first team has gone from the Italian Serie C2 to Serie A and even played in the Europa League in 2016.
The love of art and culture has also been the basis of an enduring partnership with Milan's La Scala opera house. After initially signing up as an "Officially Registered Supporter," MAPEI reinforced close ties with this world-famous Milanese institution by the company's contribution to the restructuring and restoration of the Opera House using MAPEI technology and research. In 2008, MAPEI became a "Founding Partner" and from 2016 to 2019 Giorgio Squinzi was a member of the Board of Directors. Using this same approach, MAPEI has long supported various other prestigious projects to support art and culture.
Honoring a World-Renowned Industry Legend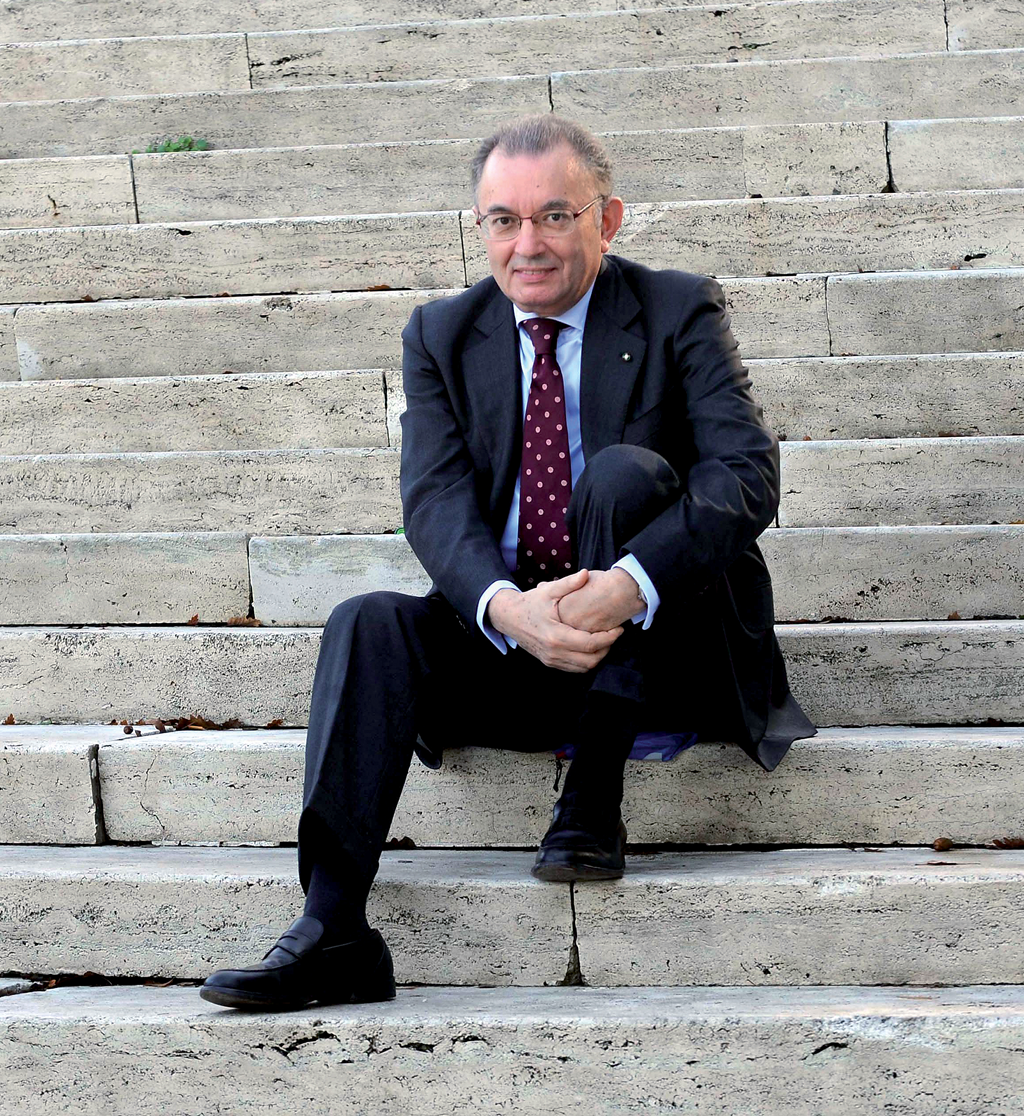 Dr. Giorgio Squinzi: Tile Person of the Year
At the Coverings 2022 Expo, Dr. Giorgio Squinzi was honored with the Tile Council of North America (TCNA) Tile Person of the Year award. This award may recognize him posthumously for 2022, but in reality, it stands as a testimony for a lifetime of work and to the fact that the actions of one man can truly influence the world. The award was accepted on Dr. Squinzi's behalf by his children, Marco and Veronica, at a reception held on April 7. In tribute, we are proud to share the text of our official press release from that event:
Dr. Giorgio Squinzi was a chemist and a forward-thinking businessman with great humanitarian and entrepreneurial qualities.
Born in 1943 in Cisano Bergamasco, where his family had been displaced by the war, Dr. Squinzi was raised in Milan where, in 1937, his father Rodolfo founded MAPEI, a small company that manufactured auxiliary materials for construction and industry.
In 1969, Dr. Squinzi graduated from the University of Milan with a degree in Industrial Chemistry. He immediately joined his father at MAPEI, contributing to the innovative and revolutionary development of adhesives and chemical products for the building industry.
After initially breaking into the Canadian market in 1976 by supplying products for laying the athletics track for the Montreal Olympics, MAPEI opened its first factory outside Italy in Canada in 1978 within the industrial district of Laval near Montreal.
In 1984, after the death of his father, Dr. Squinzi took over the reins of the family business and guided it into a new phase in its growth: Internationalization. MAPEI Group decided to enter the United States market by opening a plant in Tempe, Arizona, in 1984 and creating the subsidiary MAPEI Corporation. The Arizona plant was quickly followed by a facility in Chicago, IL, in 1985.
Dr. Squinzi's idea of building a number of manufacturing facilities that were located close to consumers on every continent led to a period of international expansion for MAPEI, which, over the years, would see exponential growth as the company opened new plants on five continents. In this endeavor, Dr. Squinzi had the backing of his sister, lawyer Laura Squinzi, and his wife, Adriana Spazzoli, who led MAPEI Group's marketing and communication operations.
In the United States, Dr. Squinzi's vision led to the creation and strategic growth of the leading manufacturer of setting materials for the construction industry. MAPEI has locations and four state-of-the-art labs strategically placed in the U.S. to best serve customers (Deerfield Beach, FL, headquarters and Fort Lauderdale factory; Calhoun, GA; Dalton, GA; Fredericksburg, VA; Swedesboro, NJ; Eagan, MN; San Bernardino, CA; Garland, TX; and Wildwood, FL). Dr. Squinzi also expanded the growth of the corporation itself with the acquisition of L&M (1996), North American Adhesives (1996), VINAVIL (2002), Polyglass (2008), GRT (2014) and, in the 2000s, being awarded the business of both Lowe's and Floor & Decor.
Under the leadership of Dr. Squinzi, MAPEI's commitment to research also continued, earning him an honorary degree in Chemical Engineering from Politecnico di Milano in 2002.
MAPEI's great contribution to the chemical industry also helped get Dr. Squinzi elected as president of Federchimica (from 1997 to 2003 and from 2005 to 2011) and president of the European Chemical Industry Council – Cefic (from 2010 to 2012). His commitment to innovation was contagious and both organizations benefited from his drive for excellence.
Thanks to his commitment to industry and business, Dr. Squinzi also served as president of Confindustria from 2012 to 2016.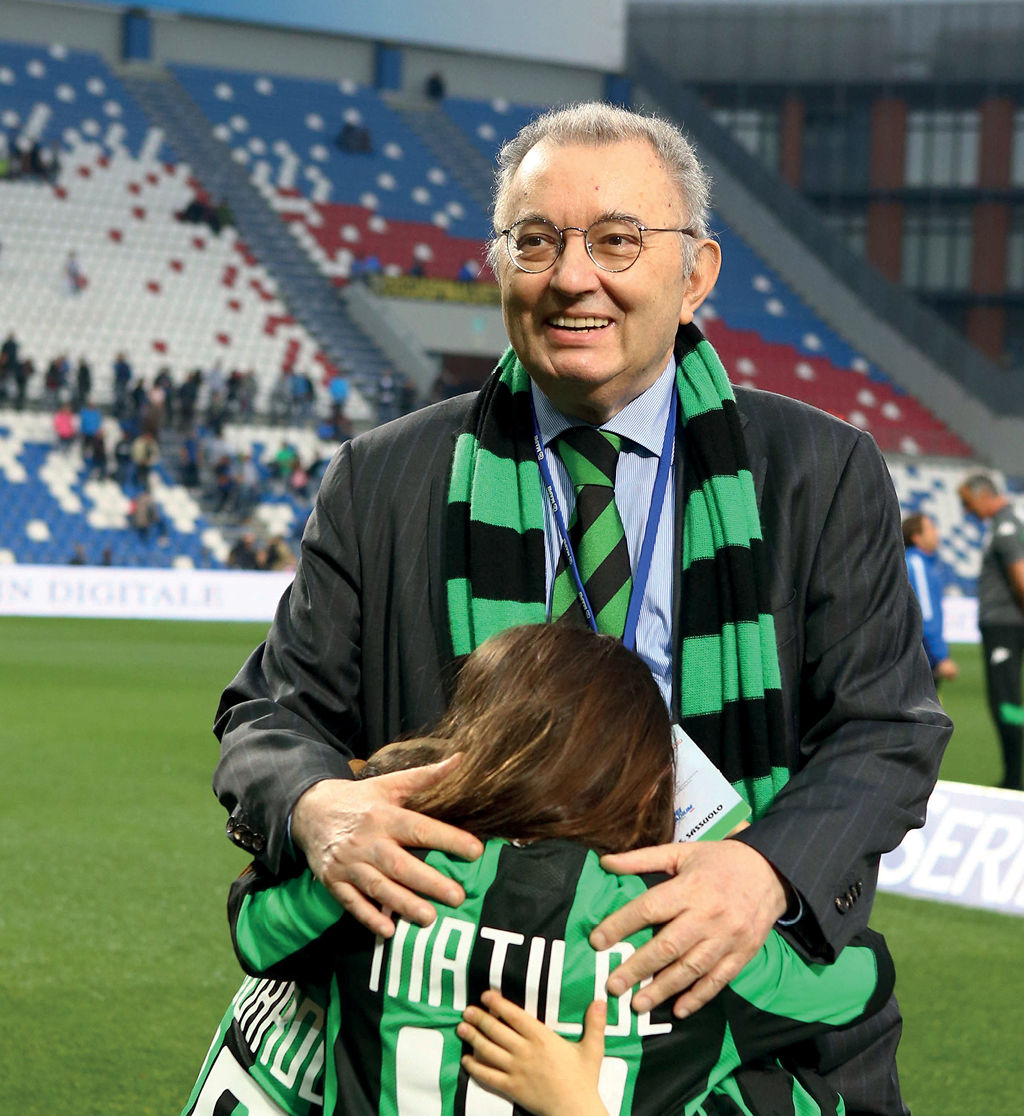 Dr. Squinzi was awarded numerous honors both abroad and in Italy. In 1998, he was made a Cavaliere del Lavoro (Order of Merit for Labour). In 2013, he was awarded the title of "Knight of the Order of Merit of the Republic of Italy" by the President of the Italian Republic.
Like his father Rodolfo, Dr. Squinzi was passionate about cycling. He established a professional MAPEI cycling team from 1993 to 2002, which was at the top of all the international rankings for many years.
In 2003, Dr. Squinzi took over Sassuolo Football Club and brought the same values to football that are such an integral part of MAPEI's DNA: Talent, teamwork, enthusiasm, determination and perseverance in taking on new challenges. Under his guidance, this football-club sponsorship has become a larger project continuing even today and focusing on sporting and personal development involving not just the professional Sassuolo men's team, but also women's and youth teams.
A firm believer in "clean" sport, Dr. Squinzi contributed to the fight against doping by setting up the MAPEI Sport Centre. Still involved in scientific research, the Centre provides assistance to athletes of all abilities to help them improve their performance through training programs and personal biomechanical assessment.
"Never stop pedaling," Dr. Squinzi's famous motto, has remained firmly imprinted in MAPEI's DNA and has continued to instill strength in the company even after his death in 2019. Upon notice of this year's TCNA's Tile Person of the Year award, Veronica and Marco Squinzi provided the following statements:
"It is a great honor for us to receive this recognition on behalf of our father Giorgio, who loved the United States and always considered it the land of opportunity. He approached the U.S. market in the 1980s, finding from the beginning a strong and real support from institutions and the economic environment. After having grown both organically and through local acquisitions, today MAPEI Group has an important footprint in America with 16 MAPEI facilities and 6 Polyglass facilities all over the country, and we'll keep on investing." – Veronica Squinzi, Corporate CEO and Global Development Director for MAPEI Group
"Staying with our strategy, we have some new ongoing projects in the U.S. for the development of products with high-quality standards that meet the needs of the local market, a market that rewards excellence. Beyond establishing and updating strategic manufacturing and distribution facilities, our business strategy aims to grow customer distribution and product-line offerings, positioning MAPEI as a system solution and complete-project provider." – Marco Squinzi, Corporate CEO and Research & Development Director for MAPEI Group
Luigi Di Geso, President and CEO of MAPEI North America, stated, "It was a great privilege that TCNA took time to honor Dr. Squinzi and to reflect on his contributions to the industry – in the U.S. and around the globe."
Thanks to Dr. Giorgio Squinzi's far-reaching vision, MAPEI Group is now a multinational company operating in 57 countries, with 91 subsidiaries and 11,000 employees.