From Realtà Mapei n° 31 - 2021-01-06
How to reduce noise in multi-family residences
As population density increases in urban centers, growing numbers of people are living in multi-family residences. Although these multi-story buildings solve many urban planning issues, they are not without their own challenges. Residents often complain about sound transmission from their upstairs neighbors.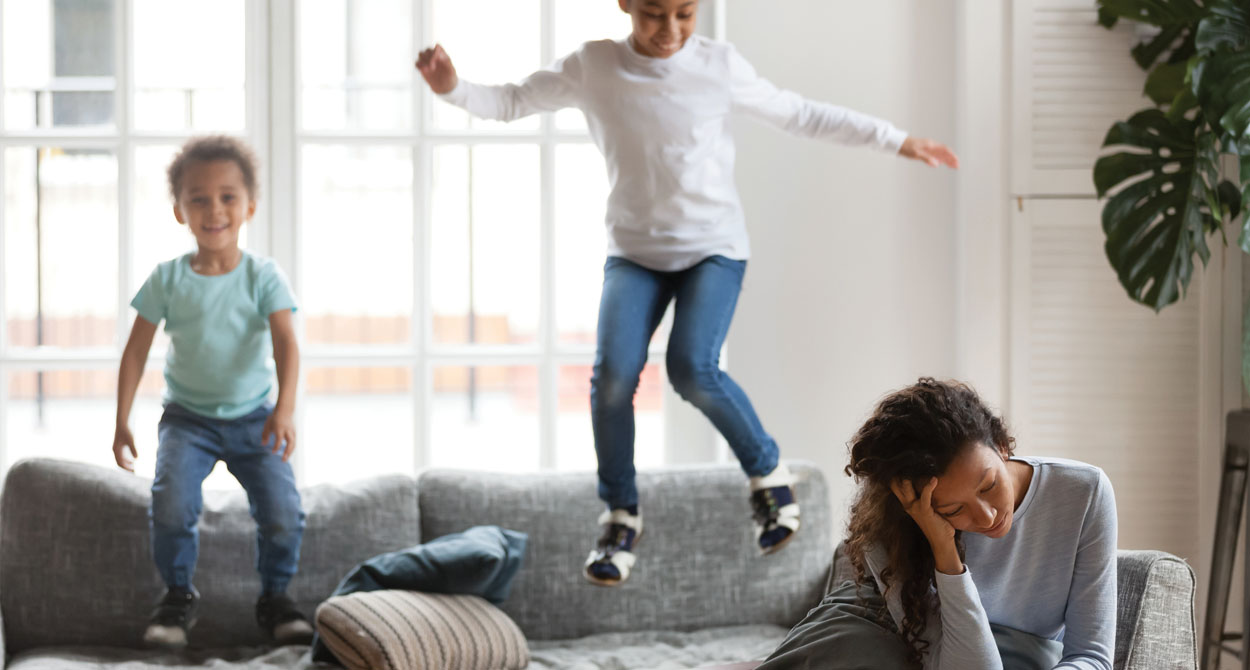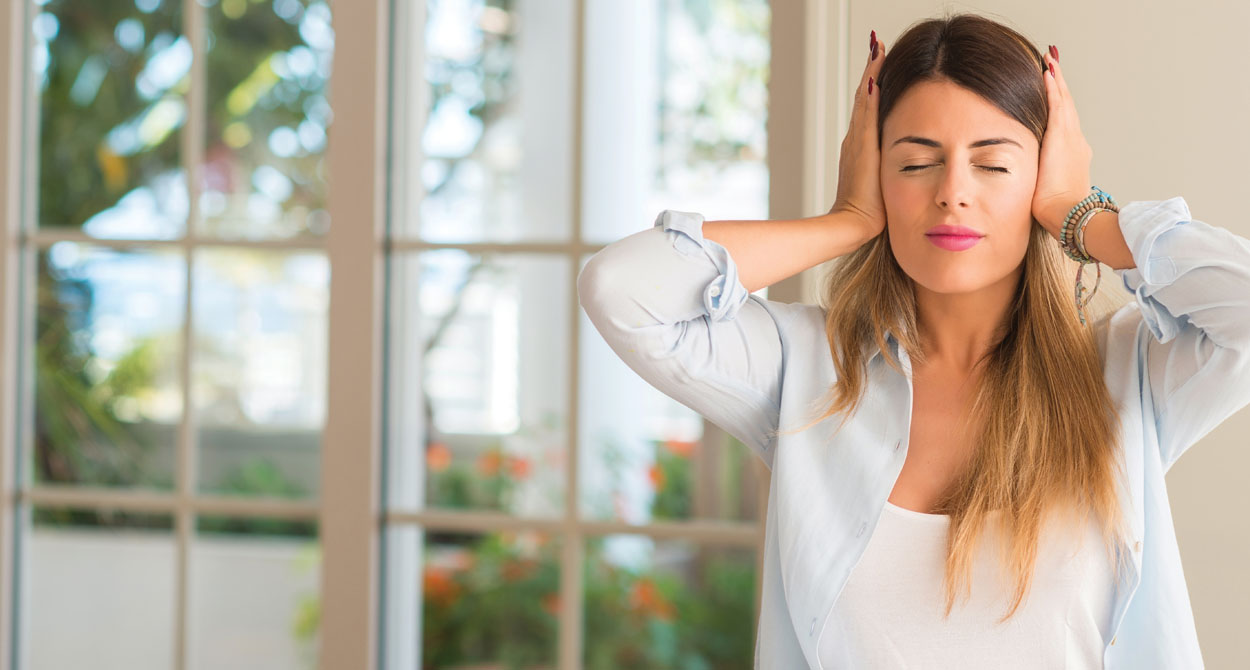 MAPEI has developed several solutions for mitigating such noise. We sat down with Jeff Johnson, MAPEI's Business Manager for Floor Covering Installation Systems, to discuss some of the options.
What new technologies or developments in adhesives and installation products are suited to installations in multifamily buildings?
In terms of adhesives, there is not much new with a specific focus on multi-family applications. What does seem to be more important these days is sound control as the housing market swings away from single-family residences to more multi- family/apartment living conditions.
The ceramic tile market has had to deal with acoustic dampening for years, but now we are seeing the need for sound control under LVT as that flooring material continues to take market share and customer preference. When you deal with acoustic dampening, this can sometimes be addressed by a single-step adhesive application, but most commonly involves some form of sound mat. Generally speaking, double-stick-type sound mat installations will have better ability to reduce sound transmissions over single-step adhesive installations.
MAPEI has recently introduced new installation materials for acoustic dampening in the form of Mapesonic RM and Mapecontact SRT. Mapesonic RM is a proprietary reground rubber membrane that is provided in several thicknesses useful for a wide variety of flooring types. Mapecontact SRT is a high-moisture-resistant, sound-reducing, double-sided foam-core tape that provides immediate utilization of the floor once installed and excellent sound reduction.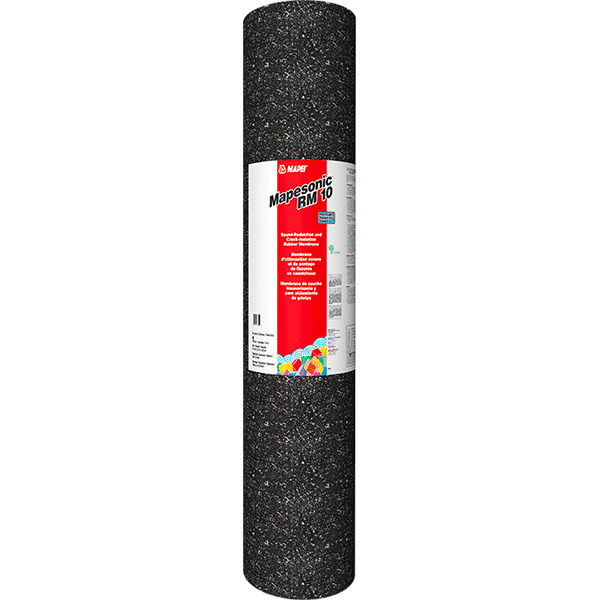 Mapesonic RM is a high-performance, acoustic underlayment designed to reduce ambient and impact sound transmissions in installations of ceramic and porcelain tile, natural stone, wood flooring, luxury vinyl tile, luxury vinyl plank, sheet vinyl and carpet tile. Mapesonic RM is ideal for applications in apartments, condominiums, college dormitories, classrooms and office buildings.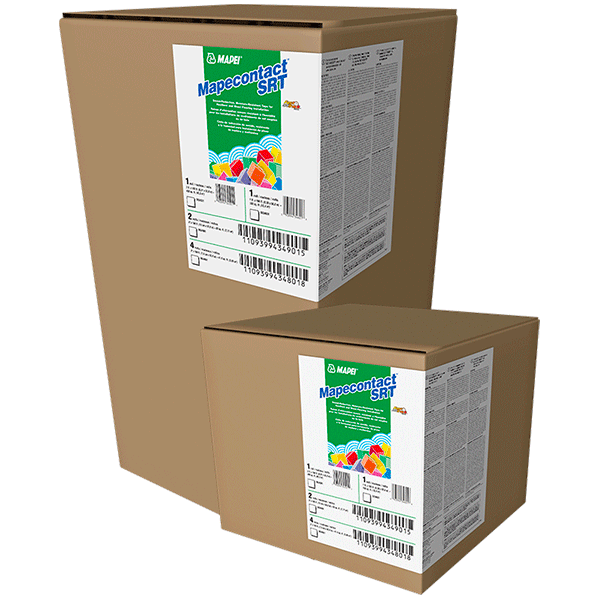 Mapecontact SRT is a double-sided, foamcore, dry-film tape for rapidly and permanently installing solid vinyl sheet, vinyl tile and vinyl plank flooring, as well as prefinished engineered or solid wood. Providing sound reduction for multifamily living, it has also been specifically designed for instant bonding and instant utilization in residential and commercial floor installations. Mapecontact SRT is unaffected by high moisture conditions in concrete and can be installed without moisture testing. Plus, it provides subfloor moisture protection for wood and bamboo flooring.
What different requirements, if any, do multi-family building installations warrant from the installation products used (compared with another commercial or residential project, for instance)?
In my experience, multi-family housing installation projects are driven by one thing primarily – cost. For example, commercial flooring applications need durability under extreme traffic or some other high-performance application, whereas multi-family housing is all about a nice visual at the best possible installation cost. Don't get me wrong, installation materials for multi-family flooring have to perform, but in general, you will find that the decisions around which the adhesive or installation system used will be driven by how much it costs per square foot.
Keep in mind also that most multi-family housing could be considered transitory in nature. In other words, the property gets turned over more often than single-family residences. As such, some contractors are looking for installation systems that are easily replaced and do not require a ton of effort to remove. That's the bottom line.