From Realtà Mapei n° 32 - 2/5/2021
Over the past decade, tile trends have drastically changed in style, texture, color variation and, most importantly, size. Large-format tile is the biggest continuing trend of 2020, going strong into 2021 – from 24" x 48" (61 x 122 cm) mega tiles to 118" (300 cm) long porcelain panels. It's easy to see why this style is so popular: Installing these massive tiles means fewer grout lines, which allows for a seamless transition across the surface and creates a sleek/ modern space. This is true for floors, walls and countertops alike in residential kitchens, bathrooms and living spaces, as well as large commercial projects with high-traffic areas like shopping malls, hotels and restaurants.
To meet the high demands of these new tile styles, MAPEI introduced the Keraflex family of mortars: Keraflex Super, Keraflex Plus, Keraflex SG and Keraflex RS. These highly versatile mortars are ideal for large and heavy tiles, including ceramic, porcelain and gauged tile. "The introduction of the Keraflex mortar series offers the advantage of consolidation, simplification and versatility to the distributor, retailer and contractor, allowing the opportunity to streamline their mortar selection offering," said Brian Pistulka, MAPEI's Business Manager for Tile & Stone Installation Systems.
The ever-evolving tile industry requires revolutionary products with exceptional quality and tangible benefits for installers. The Keraflex family was developed to address changes in the tile types and sizes as well as substrate requirements in previous eras. Plus, the Keraflex mortars are installer-friendly, offer flexibility and multi- functionality, and are purposefully designed to meet specific jobsite needs.
These mortars are formulated with Easy Glide Technology™ for extreme ease of application (reducing fatigue during installation) and with a consistency that allows adjustability when used with lippage control systems. They can also be used over uncoupling, crack-isolation, sound-reduction and waterproofing membranes. Each mortar features MAPEI's High-Transfer Technology, providing maximum coverage for high-bond adhesion strength.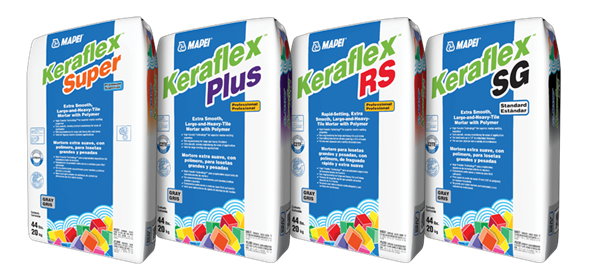 Keraflex Super is a premium polymer-modified mortar with enhanced resistance to freeze/thaw environments. Keraflex Super can also be used as a mortar over uncoupling, crack-isolation, sound-reduction and waterproofing membranes.
Keraflex Plus is a professional, extra smooth, highly versatile, polymer-modified mortar. It is formulated as non-sag for walls and nonslump for floors.
Keraflex RS is a professional, rapid-setting, highly versatile, polymer- modified mortar. Keraflex RS allows tiles to be grouted within 3 to 4 hours after installation.
Keraflex SG is a standard-grade, versatile, polymer-modified mortar.
Features of the Keraflex family include:
High-Transfer Technology with impressive non-sag/nonslump properties along with high bond adhesion strength – perfect for large and heavy tiles
Easy to trowel, which requires 70% less effort and reduces application times
For bond coats up to 1/2" (12 mm) in embedded thickness
Superior mortar-wetting properties
Water and frost resistance
Ideal for use with edge-leveling clip applications
Easy to mix: Products blend quickly and easily to a lump-free consistency
Easy to trowel, with a buttery texture that requires much less effort
"The working features, product application and performance attributes of the Keraflex mortars combine and enhance the individual strengths of the different technologies of polymer-modified mortars and large-and-heavy-tile mortars currently on the market," Pistulka added. "The contractor-friendly application properties of this unique mortar product line will delight your customers and provide an opportunity to grow your business with a loyal following of Keraflex believers."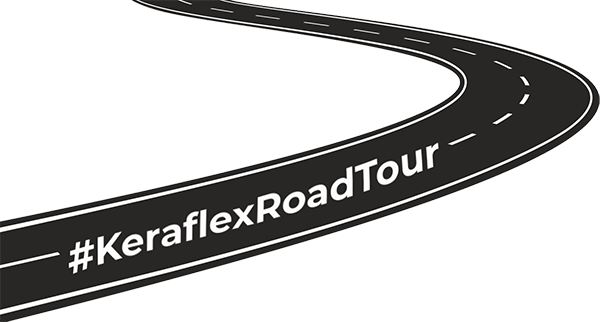 Because seeing is believing, the Keraflex family hit the road in the autumn season for the #KeraflexRoadTour to bring over 250 demo/ training events to more than 160 cities, with 109+ customers visited across 43 U.S. states. The nine-week tour included a social media contest on Facebook, Twitter, LinkedIn and Instagram featuring the specially wrapped Keraflex vans. The contest invited anyone who sees the van to snap a picture and tag us on to be eligible to win MAPEI giveaways. As with any good roadtrip, the recapped journey is documented and can be seen in videos on the MAPEIUSA YouTube channel.