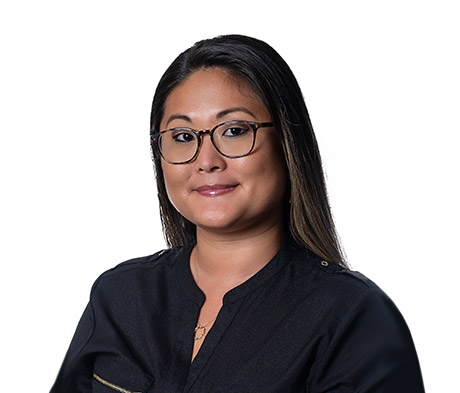 Deerfield Beach, Florida – Coverings, the largest tile and stone trade show in North America, has announced the winners of its prestigious 2021 Rock Star awards. The Coverings Rock Star award is an Emerging Leaders Program that honors the best and brightest young talent in the tile and stone industry. Among this year's winners is Jennifer Diliberto Riquelme, a Senior Development Chemist with MAPEI.
A graduate of the University of Miami with a BA in chemistry and a BS in health science, and an expert in color science, Diliberto Riquelme specializes in color development in MAPEI's Research and Development laboratories. It is safe to say that if a product involves color at MAPEI, it also involves Diliberto Riquelme. During her 10 years at MAPEI, she has managed all of the color development of the CQ aggregates that are instrumental to the MAPEI Flexcolor CQ, Kerapoxy CQ and Kerapoxy IEG CQ lines of grout. She also performed the original color-development work for the Elastocolor line. She worked to bring Ultracolor Plus FA and Ultracolor Plus Max to the market, as well as Keracolor S and Keracolor U. She also manages the color development for the matching sealants Keracaulk S, Keracaulk U and Mapesil T.
All of this lab work results in very popular products; however, there is one project that Diliberto Riquelme gives special mention. "I did all of the color development across all product lines – cementitious, epoxy, acrylic and coatings – that offered the 15 colors – #101 to #115 – that were recently added, as well as the custom-color matching of any cementitious gout, including in the TWA terminal in JFK Airport and in the new Terminal B in LaGuardia Airport," Diliberto Riquelme said.
The Rock Star winners will be recognized at an awards reception on Wednesday, July 7, during Coverings 2021, taking place July 7-9, 2021, in Orlando, Florida. The honorees will also receive a gift card and will be honored with an onsite luncheon.
Congratulations to all of the 2021 Rock Star recipients:
Designer Category (2):
Rebecca Oehlschlaeger, Designer & Special Projects Manager, Bellew Tile & Marble, Sandwich, Mass.
Raquel Raney, Designer, EoA Group, Miami, Fla.
Distributor Category (3):
Bruna Da Silva, Purchasing Manager, StoneHardscapes LLC, Ft. Lauderdale, FLA.
Blakely Dent, RID Commercial Sales Specialist, Florida Tile, Lexington, Ky.
Annie Llerena, Branch Manager, D&B Tile Distributors, Doral, Fla.
Fabricator Category (1):
Steven Miranda, Production & Facilities Manager, NOVUS Building Services, Sterling, Va.
Installer Category (3):
Ken Ballin, Owner, Skyro Floors, West Creek, N.J.
Mikaela Fedor, Owner, Titan Tile LLC, Bath, Pa.
Nick Struzik, Owner/Setter, Syndicate Tile and Stone, Burr Ridge, Ill.
Manufacturer Category (2):
Adam Abell, Senior Market Manager – Tile & Stone and Surface Prep Products, Bostik, Wauwatosa, Wis.
Sarah Williams, Marketing Director, IQ Power Tools, Perris, Calif.
Retailer Category (2):
Meagan Jensen, Co-Owner, Bella Pietra Design, Honolulu, Hawaii
Nicholas Valderrama, Sales Manager, Casa Linda Tile & Marble, Miami, Fla.
Trade Associations Category (2):
Christopher Ellis, Tile Marble, Terrazzo Field Representative, Bricklayers & Allied Craftworkers Local 1 WA/AK, Lacey, Wash.
Amanda McMillan, Director of Member Experience, Rockheads Group USA, Beachwood, Ohio.
Other Category (1):
Jennifer Diliberto Riquelme, Senior Development Chemist, MAPEI Corporation, Deerfield Beach, Fla.
To learn more about the Coverings 2021 Rock Stars, visit www.coverings.com/coverings-rock-stars. For more information about the Coverings Connected digital experience and to view the schedule, visit www.coverings.com.