A portfolio of system components
The Mapeheat family of products includes: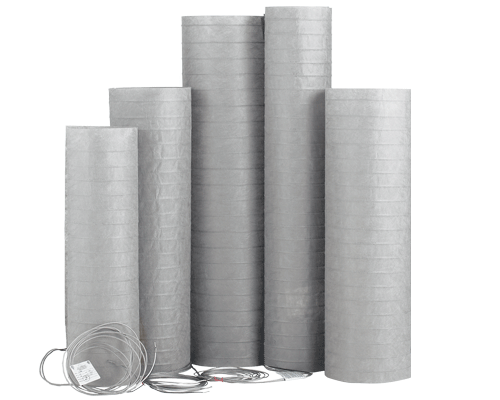 Mapeheat Mat
Mapeheat Mat is a pre-wired, radiant floor-heating fabric designed for easy installation. Embedded in the fabric, the heating wires are evenly spaced, guaranteeing even heat distribution with no cold spots. Mapeheat Mat is available in more than 70 standard sizes and can also be custom-sized to accommodate curves, angles and obstructions.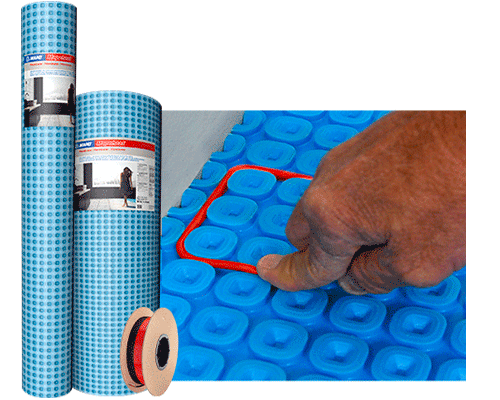 Mapeheat Membrane and Mapeheat Cable
Mapeheat Membrane is a lightweight uncoupling, crack-isolation and waterproofing membrane. It comes in varied sizes and features rounded-square reliefs into which Mapeheat Cable floor-heating cable securely snaps. The membrane's thin profile – less than 1/4" (6 mm) – works well with remodeling projects in which a new floor is installed directly over a preexisting one.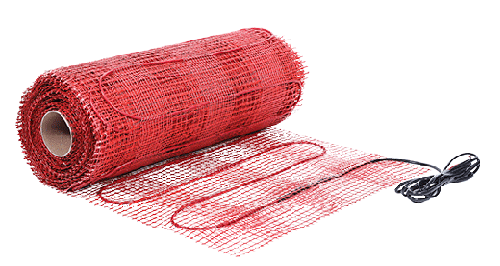 Mapeheat Mesh
Mapeheat Mesh is a self-adhesive, pre-wired, floor-heating mesh that can be adhered onto the subfloor during the layout process. Compatible with all subfloor types and featuring a low profile (3/16" or 4.5 mm), Mapeheat Mesh is ideal for use in renovation projects. Easily installed and configurable to fit any room, Mapeheat Mesh is suitable for use under ceramic and porcelain tile, natural stone, laminate flooring, engineered wood, luxury vinyl tile (LVT) and luxury vinyl plank (LVP).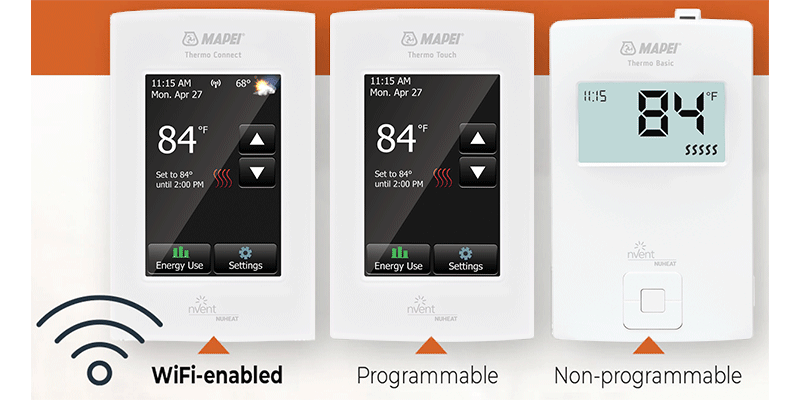 Mapeheat thermostats
Every Mapeheat floor-heating system is available with the option of three thermostats: Mapeheat Thermo Connect, Mapeheat Thermo Touch and Mapeheat Thermo Basic. Allowing users to easily control the settings of the Mapeheat floor-heating system, each thermostat senses floor and ambient temperatures. However, each thermostat offers different features and advantages.
Mapeheat Thermo Connect is a WiFi-enabled, floor-sensing thermostat designed to interact with today's smart home. Homeowners can program and control their Mapeheat Thermo Connect via a free smartphone app (iOS and Android) or any Web browser. Plus, this thermostat works with Nest, Google Assistant, Amazon Alexa and IFTTT home assistants. It allows 7-day programmability and shows energy usage.
Mapeheat Thermo Touch is a 7-day programmable thermostat that has a touchscreen display and shows energy usage.
Mapeheat Thermo Basic is a non-programmable thermostat with a physical on/off switch.
The mix-and-match components of Mapeheat floor-heating systems offer versatility, variety and innovation. And they're not just limited to tile installations. Mapeheat systems can be used to heat many types of flooring, including engineered wood and luxury vinyl… and even in wet environments like steam rooms and showers.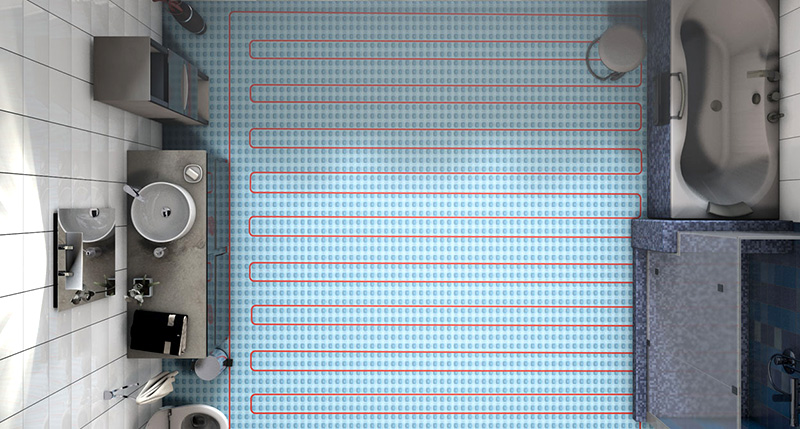 Working with the science of heat energy
Mapeheat systems provide comfortable, clean, safe and efficient ways to heat any indoor living space. In addition, they make good ecological and economic sense because of how heat energy works.
Heat rises. When heating a room, it is more efficient and effective to start the heating process at the floor and allow the heat to rise rather than to force heat out and down from a ceiling vent or wall unit. Delivering warmth to the exact areas where it is needed most, radiant floor heating delivers enhanced comfort at a lower average ambient temperature, which saves energy.
Speaking of efficiency, direct electric heating is 100% efficient. In other words, all of the energy used by direct heating systems is converted into heat. By comparison, for an older gas furnace that is 80% efficient or a "high-efficiency" gas furnace that is 90% efficient, up to 20% of the energy consumed is not creating heat (meaning that the energy is wasted).
Systems that heat a space with warm air have the additional challenge of using air, a medium with low thermal mass, to heat solid objects in the living space, all of which have greater thermal mass than air. This is why a forced air system needs to keep a home at a higher ambient temperature to deliver an equivalent comfort level.
Features that save costs and energy
A well-designed Mapeheat system also offers other benefits that can reduce energy usage, such as:
Mapeheat systems will provide the desired temperature quickly, enabling on-demand zone heating. And because a separate Mapeheat thermostat governs the floor heat of for each area, the homeowner can pay to heat only the spaces that are in use.
The programmable thermostats Mapeheat Thermo Touch and Mapeheat Thermo Connect allow the user to schedule the heating system to be on only when the home is occupied. Both of these premium products also track energy use over time, allowing homeowners to understand how their usage patterns and settings are affecting their electricity use.
Both programmable Mapeheat thermostats have a feature called "Early Start" with an embedded self-learning feature. By enabling Early Start, the thermostat will activate the system early, with the goal of being up to the desired temperature at the scheduled time.
The WiFi-enabled Mapeheat Thermo Connect enables remote operation and smart-home connectivity. By integrating the Mapeheat system with Alexa, Google Assistant, IFTTT or another home assistant, users can optimize energy use with home routines or apps that account for home occupancy, the owners' geolocation, home security status, and many other conditions that enable the system to be automatically turned down or off for maximum efficiency.
Mapeheat Cable and Mapeheat Mat systems enable variable watt density for the desired heat output.
Installing a thermal barrier, such as MAPEI's Mapesonic RM, under the Mapeheat floor-heating system ensures that most of the energy use goes into heating the floor and the living space.
In summary, a Mapeheat system from MAPEI offers an outstanding combination of energy efficiency, high-tech convenience and luxurious comfort. It's truly a treat for feet.