From Realtà Mapei n° 35 - 8/15/2022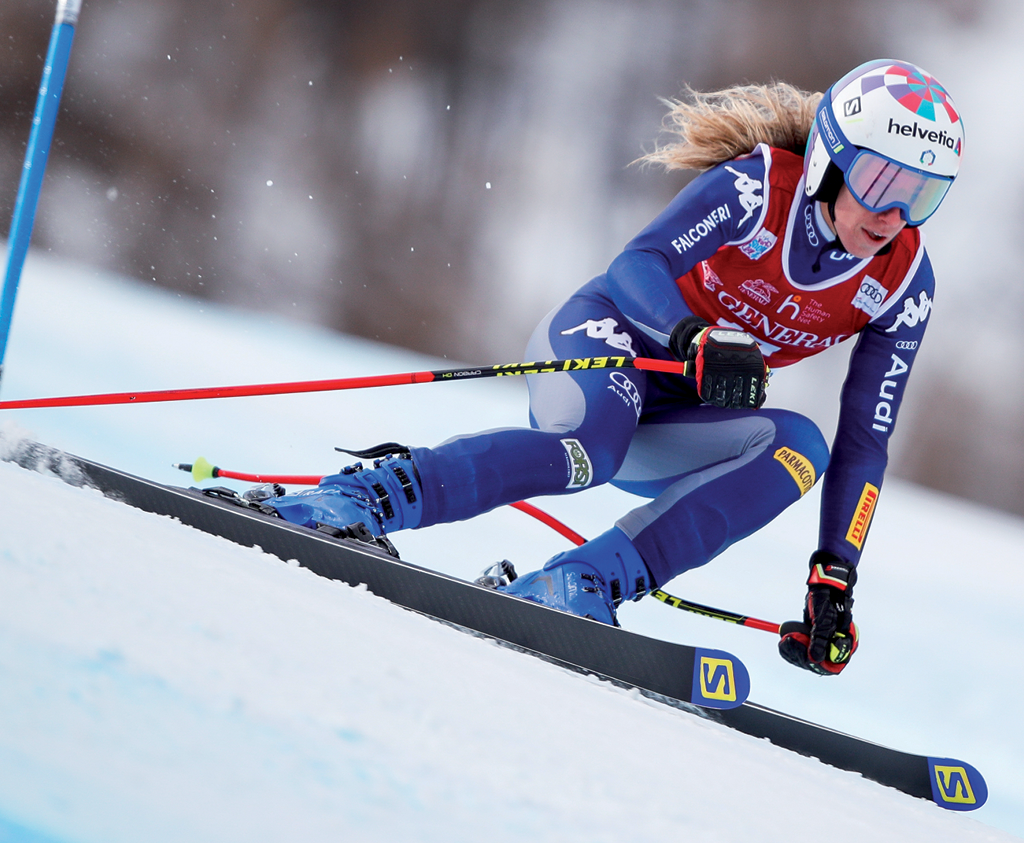 This article is reprinted from Realtà MAPEI International magazine, Issue #84.
The Alpine Skiing World Championships at Cortina d'Ampezzo in northern Italy brings to a close an extremely successful season for the Italian national team, which has been drawing on the services of MAPEI Sport Research Centre since 2001. Italy's "home" World Championships, unfortunately without any spectators due to the restrictions imposed by the pandemic, marks the end of a tricky past winter [2020] during which the best men and women skiers from the Italian national team proved they could even overcome bad luck.
"Leaving aside all the medals that have been won, we are proud to partner with the Italian Winter Sports Federation (FISI) under the presidency of Flavio Roda. We will continue to provide the Italian National Alpine skiing team with our expertise, helping them to achieve their goals as we did through the last Olympic Games in Beijing 2022. We are hoping to continue a partnership that has been going on for years now," said Claudio Pecci, Director of MAPEI Sport Research Centre.
Constant monitoring and cutting-edge equipment
From some of the world's most successful champions taking part in the World Cup to up-and-coming young skiers taking part in the Europa Cup, approximately 60 men and women from the Italian national squad can rely on the support of experts from MAPEI Sport who test them two or three times a year, focusing specifically on their physical fitness. Over the years, the facility has developed special systems for monitoring athletic skiers. The center's equipment includes the so-called "eccentric leg press," a prototype unique of its kind in the world that was designed and developed by physiologist Piero Mognoni and Professor Aldo Sassi.
"The press simulates with a high degree of approximation some of the specific physical demands that skiers must handle on the slopes. Skiers are subjected to reiterated eccentric-concentric contractions replicating what happens during turns," explained Ermanno Rampinini, Director of MAPEI Sport's Human Performance Lab (HPL).
Athletes undergo specific lab testing for their own specialties. Eccentric strength is an important physical determinant for alpine skiing performance: At every turn, skiers must resist the centrifugal force resulting from their high speed. They must also have good capacity and sensibility to modulate force on the snow. The ability to modulate force is crucial to keeping a skier's speed as high as possible during turns. Alongside these neuro-muscular measurements, tests are also carried out to determine lower limb power and the efficiency of a skier's anaerobic system (i.e., their stamina).
Determination and patience to get back to racing following an injury
MAPEI Sport has followed a number of skiers as they have gradually risen to the top of the World Cup circuit, such as the highly talented Marta Bassino, who has been a regular at MAPEI Sport Research Centre since 2004 (she underwent her first test when she was 18 years old). The support of the staff at MAPEI Sport can be extremely useful for identifying and enhancing the potential of young athletes, as well as compensating for their weaknesses or limits. Developing both mentally and technically is also a crucial part in the training of a top-class athlete, such as Bassino.
Laboratory data can be invaluable during a busy competitive season involving lots of training, traveling, practice sessions and races. It can also be useful for dealing with any hurdles or disappointments encountered along the way, such as the ordeal that Pyeongchang 2018 Olympic downhill champion Sofia Goggia faced after fracturing the lateral tibial plateau of her right knee after a fall in Garmisch, Germany.
"We were sure she would come back as she has already done in the past, thanks to her physical abilities and determination, the true hallmark of a champion. Having completed the rehabilitation, she followed a post-injury recovery program with our help to regain full fitness," said Rampinini, who also serves as MAPEI Sport's consultant for team sports, such as football, basketball and winter sports.
"The testing we carry out over the years not only serves to optimize an athlete's training, it is also useful for determining how far they are from their usual fitness levels," Rampinini continued. "Knowing an athlete's background means you can gauge more accurately how far they are from being fully fit."
Champion skier Dominik Paris recently had to go through a situation that was similar to Goggia's before he successfully returned to the top of downhill racing: He tore the front cruciate ligament of his right knee following a crash in Kitzbühel, Austria, in January 2020.
"In his case, we focused on testing to assess how well his knee that had been operated on had recovered. A leg that suffers an injury like Dominik's can lose 30% to 50% of its strength, so you need plenty of patience to wait for it to fully recover and not rush back into competition too soon. That also means paying very careful attention to balancing training loads," Rampinini added.
Science can help in this respect, as can an athlete's determination. A recent example of this determination concerns downhill skier Guglielmo Bosca who, despite injuring the cruciate ligament of his right knee in the first World Cup race in Bormio in northern Italy, did everything he possibly could at the MAPEI Sport Lab to postpone surgery and hold onto his dream of being picked for the World Championships. Sometimes there should be more than three medals up for grabs... Some people are winners without making the podium.